History of Ibanez Acoustic Guitars & Series Reviews
Ibanez Acoustic Guitars (owned by The Hoshino Gakki Company) have a history that is over 100 years old and, for a company that got its start selling musical instruments for a bookstore; it has done very well for itself indeed. Taking its name from Salvador Ibanez, a Spanish Guitar maker whose products were being imported by Hoshino Gakki, Ibanez guitars have developed a reputation for good quality, low priced acoustic guitars that look and sound great and won't tax your budget.
While Ibanez has made a name for itself primarily with its bass and electric guitars, Ibanez acoustic guitars are not given nearly the amount of attention they deserve. From pure acoustic models to acoustic/electric models, Ibanez has an acoustic guitar that will fit every musician's budget and style of play.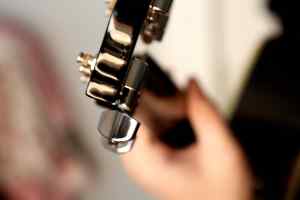 Ibanez Series Roll Call
Artwood Series
The best known of the Ibanez Acoustic Guitars, the Artwood models have a lot to offer any player. Each of the Artwood series guitars is crafted with a
solid Engelmann spruce top
and comes standard with a bone nut and saddle for improved sound and playability. Built on dreadnought and grand concert bodies, these guitars are large instruments that have the deepness of tone and exceptional projection that has come to be expected from these larger instruments. They can be a bit too much to handle for more slightly built players, however, and, while they provide an exceptional value, they do not have the fullness or richness of tone that make brands like Taylor and Martin so popular.
AEF Series
The AEF series of guitars is built on a rather unique (though comfortable) body shape. All of the guitars in the AEF series have either flamed maple or spruce tops, as well as bodies made either of quilted maple or flamed maple. This gives the AEF guitars a clearness of tone that can be rather startling, but which works well, especially in situations where being heard is of primary importance. The variety of finishes provides you with a wide range of choices for customization. For the price, the Ibanez AEF's are a very good value, combining comfort and aesthetics, and have proven to be one of the most popular choices of Ibanez acoustic guitars.
DT Series
The Ibanez Daytripper is a mini dreadnought that is designed to be a traveling guitar. With mahogany bodies, these small-sized guitars have warmth of tone that should rightly belong to a larger guitar. While their sound is not as deep as that of a full-sized, it is built with extra attention to durability so that it can take a lot of wear and tear. The Daytripper also comes as a pure acoustic or with electronics so that you can plug in should the spirit take you.
SAGE Series
The Ibanez Sage series acoustic guitars were designed with the beginning acoustic guitarist in mind and, and a guitar from the SAGE series can be a good guitar for beginners. The guitars in this series come in a wide range of body styles including grand concert, jumbo and dreadnought, so you can chose what feels best for you. The SAGE series also come in both acoustic and acoustic/electric models so that you can either opt for the sound of a pure acoustic, or be ready to plug in should the need arise. While the SAGE series guitars look great, they tend to be a bit 'cramped' for playing tone; a fact which may arise from their use of laminates instead of solid tops, but for the price they still make for a good beginning acoustic guitar.
PF Series
The Ibanez PF series offer you the choice of performance level pure acoustic guitars or acoustic/electric guitars so that you can choose whichever type is right for you. The PF30SNT pure acoustic version of the PF comes with a
solid spruce top
. The acoustic/electric version of this guitar comes with Fishman® Sonicore pickups as well as Ibanez preamps. But when it comes to pure acoustics you can also choose from Grand Concert or full-sized Dreadnought bodies to broaden and deepen your performance sound, each of which is also available as an acoustic/electric should you have the need.
GA Series
The Ibanez GA Series classical guitars are an excellent choice for both advanced musicians and as a beginning acoustic guitar for those interested in learning to play a classical instrument. From the easy-to-play nylon string classical model which makes a great beginner guitar to the more classical-sized guitars that take a little more handle, you'll find a wide range of models available, both with and without electronics. Unfortunately, the GA series do not come with solid tops, a drawback that keeps them from being as rich of tone as solid-top models, but their decidedly affordable price can make the difference between having a good acoustic guitar and not being able to afford one at all.
Conclusion
With all of these models; both acoustic and acoustic/electric to choose from, there is bound to be a guitar in one of the Ibanez series that will fit your playing style and needs. From a great acoustic beginner guitar to a good acoustic guitar for professional musicians who are looking for dependability and affordability, Ibanez acoustic guitars can meet all your guitar playing needs.
<!********** LEFT ALIGN IMAGE START ********************>
Review from Celiavo
Ibanez AEG4JP-BK-27-01
11/8/12
"The guitar and sleek and smooth. It has a nice rich sound, that's what I love most about it." <!******** REFRESH ALIGNMENT **********>
<!********** LEFT ALIGN IMAGE END ********************>


Return from Ibanez Acoustic Guitars to Best Acoustic Guitars HOME