Reviews of the Best Taylor Acoustic Guitars!
Taylor Acoustic Guitars are not only made in America, they are a testament to American ingenuity and design. They are incredibly well-crafted, with a rich tone and quality that even the most demanding of professional musicians appreciate, and are a solid choice for anyone who is dedicated to the craft of playing acoustic guitar.
<!********* TABLE FOR GUITAR IMAGES - 4 ACROSS **********>
<!********* TABLE FOR GUITAR IMAGES - 4 ACROSS **********>
<!********* TABLE FOR GUITAR IMAGES - 4 ACROSS **********>
<!********* TABLE FOR GUITAR IMAGES - 4 ACROSS **********>
To Dream the American Dream
The legend of Taylor Guitar is an affirmation that, with hard work and dedication, one can achieve the American Dream.
The story of Taylor Acoustic Guitar starts with a high school junior by the name of Bob Taylor who decided that he wanted to make a guitar, a 12 string acoustic guitar, in shop class. The teacher bought him a book, gave him the materials, and though it took him all year, the guitar he made turned out so well that he made two more his senior year.
<!******** CLICKABLE IMAGE CODE **********>

<!******** CLICKABLE IMAGE CODE **********>
It really should have come as no surprise when Taylor joined a small guitar building shop in Lemon Grove, CA right out of high school. It was called (prophetically) The American Dream, and was owned by the Raddings. When Sam Radding decided he no longer wanted to build guitars, three of his employees; Taylor, Listug and Schemmer, bought the Radding's shop, their tools, their contracts and orders, and began making guitars for themselves in 1974 under the name Westland Music Co. They chose to put Taylor's name on the headstock, however, since he was the only one of the three that knew anything about actually building guitars.
Quality Guitars But Nearly Bankrupt
After painstakingly making only 36 guitars to order in their first year, Westland Music Co. very nearly went out of business in 1975. As it was, everyone but the three partners was laid off. Deciding that it was time to reorganize, Taylor and his partners changed the name of the company to Taylor Guitars in 1976. By 1978 they had signed a distribution deal with Rothchild Musical Instruments Company. Rothchild had big dreams and pushed Taylor Guitars to make fancier models, but the orders never came through and once again Bob Taylor had to lay off his entire workforce.
The relationship with Rothchild now over, Taylor began designing jigs and fixtures that improved the efficiency of the guitar building process. Once he began using consistently made parts with new manufacturing equipment, the efficiency and quality of their guitar production improved significantly. Even so, and despite Listug's efforts to promote and market their product, the company was barely making payroll. Schemmer finally called it quits and sold his share to Listug and Taylor in 1983.
Taylor Guitars Recovers
<!************ Left-Justified, clickable IMAGE ****************>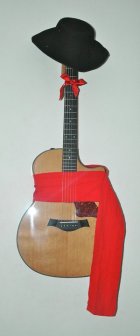 <!************ Left-Justified, clickable IMAGE **************> By 1984 – ten years after starting out – Taylor Acoustic Guitars finally saw the beginning of a growth spurt, with more and more artists coming to Taylor to have their guitars crafted. In 1990 the line of artist-endorsed Taylor guitars doubled with the introduction of the Leo Kottke Signature Model. Kottke was a notoriously picky virtuoso and was very choosy about tone and playability. With this endorsement Taylor became known as the company for discerning guitarists.
By 1989 Taylor became the first acoustic guitar builder to use a Fadal; a computer numeric control machine (CNC). This tool enabled Taylor to make his guitar parts with pinpoint precision. Using this precise machine, in 1991 Taylor introduced the 400 series, the only all-solid-wood guitars built in America priced under $1,000 and earned Taylor Acoustic Guitars a place in guitar history.
Year 2004 marked the 30th anniversary of Taylor Guitars, which is still going strong and still owned by Taylor and Listug. They are the first American luthiers in the 20th century to go from single production shop to high level manufacturing without relinquishing ownership of their business. <!******** REFRESH ALIGNMENT **********>
<!********** LEFT ALIGN IMAGE END ********************>
Artists Who Play Taylor Acoustic Guitars
Taylor guitars have an extraordinarily good reputation among professional musicians of all types, with discerning concert and performance musicians electing to play Taylor Acoustic Guitars. Just a few of the more recognizable names include; Bryan Adams, Trace Adkins, Taylor Hicks, Faith Hill, Billy Idol, Alan Jackson, Jewel, Jimmy Buffett, Taylor Swift, Pam Tillis, Rick Spirngfield, Shania Twain, Roger Wittaker, Clay Walker and Neil Young. And that is just barely scratching the surface.
Taylor Guitars also have a following of notable "civilian" or non-professional musician set, including author Stephen King (who is rumored to be quite good, especially with jazz) and Bill Clinton.
Popular Taylor Acoustic Guitars
The GC (Grand Concert) Series is perhaps one of the most popular models of Taylor Acoustic Guitars, and is a great introductory model to the solid-wood Taylor line-up. The GC has an incredibly "light" feeling on the fretboard, making it a joy to play. The list price for a GC depends on which variety you choose and can range from $1,150 (for the Taylor GC3) and upwards.
In 2006 Taylor came out with its first new shape in ten years, the GS (Grand Symphony) Series. This line has been extremely popular since its introduction and is known for its rich volume. The GS runs $2,300 and upwards, with a tone so well balanced that it is worth the money.
Tell us about your favorite Taylor Acoustic Guitars!
Include the model # and explanation of why your guitar is so great!
What Other Visitors Have Said
Click below to see reviews from other visitors to this page...

Taylor Acoustic Guitars | Taylor Acoustic-Electric
Return to Best Acoustic Guitars