Why Buy from Seagull Guitars?
It is quite possible that Seagull Guitars are one of the best kept secrets in the world of guitars. I know that while I was searching for my own ultimate favorite acoustic guitar the seagulls that I tried out came as a stunningly pleasant surprise.
| | | |
| --- | --- | --- |
| S6 Entourage | Original S6 | Cedar Slim |
| Female-friendly guitar with clear, crisp sound | Best beginner guitar on the market for the money! Cedar top | Full-bodied sound; slimmer nut width |
Seagull Guitars in a Nutshell
Established as it was in 1982, Seagull is a relatively new company as guitar manufacturers go. Seagull's great claim to fame is that it produces only solid top acoustic and
acoustic-electric guitars
. As anyone who has done any research into acoustic guitars will be able to tell you,
solid top
acoustic guitars have a far better tonal quality than their laminated counterparts. This means that with Seagull Guitars you get awesome sound and at a price that is decidedly less than other guitars of the same quality.
<!******** CLICKABLE IMAGE CODE **********>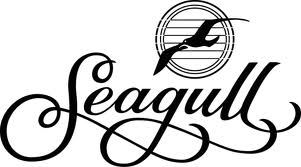 <!******** CLICKABLE IMAGE CODE **********> Another important point is that Seagull uses only the best quality of tonewoods (both solid woods and veneers) for its guitars' bodies. In fact, much of the wood it uses comes directly from the Northern Canadian forests in order to cut down on the costs of shipping and manufacturing of the guitars.
Seagull also has a special knack for lightweight bracing that lends its guitars a tonal quality that is unusually rich and vibrant for their price range. In addition to adding to the sound of the guitar the bracing ensures that these guitars, even the solid wood models are lightweight and easy to handle.
Quality of Seagull Guitars
When it comes to quality, Seagull acoustic guitars have an amazing value. It is safe to say that you are getting the same kind of quality and craftsmanship as you would out of many Gibson or Martin acoustic guitars, but at a fraction of the price.
Just look at the quality of the tonewoods that Seagull uses in their Natural Elements collection. The Natural Elements acoustic guitars are made with Cherry Wood, Heart of Wild Cherry and Figured Maple, all of which are grown in Northern Quebec. Being able to use local woods means that these guitars are not only gorgeous to look at and a joy to play, but that they are also eco-friendly; something that is very important to the Seagull Company.
Mind you, Seagull Guitars (being a relatively young company) doesn't have the same kind of reputation as Gibson or Martin. This means that the resale value of a Seagull is not going to be nearly as high as that of its better known competitors. They haven't been around long enough to develop a reputation as collector's items. But that is certain to change as more and more individuals are exposed to the awesome quality of these instruments. But if it is pure quality and playability that you are looking for, then Seagull is definitely worth looking into.
Comparing Seagull Guitars to the Competition
<!************ Left-Justified, clickable IMAGE ****************>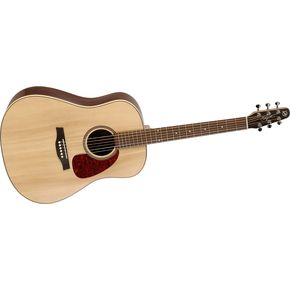 <!************ Left-Justified, clickable IMAGE **************> It is quite simple really. A solid wood acoustic guitar made by Seagull can be had for a fraction of the cost of the higher priced competitive models.
Take the Seagull Maritime SWS Rosewood SG. For roughly $800 you get a beautiful guitar with a solid spruce top and solid rosewood body. The closest price for a competitor's model would have to be the Martin D-1GT Dreadnought
with a solid spruce top and solid sapele body which will run you nearly $1,000. But even so, the Seagull Maritime SWS has smother playability than the Martin. You'd actually have to climb up into the $1,800's to find a Martin that compares to the tone of the Seagull Maritime SWS.
<!******** REFRESH ALIGNMENT **********>
<!********** LEFT ALIGN IMAGE END ********************> You can get a Taylor 110 for about $650. This may be less than the Seagull, but with the Taylor you get a laminated body, not a solid body. And, believe it or not, the solid body construction of the Seagull Maritime SWS gives it a far better tone than the Taylor.
If you are a serious musician who wants the most for their money and plans on getting a lot of wear out of their instrument then one of the Seagull Guitars will be a steal for you. Not only will you save a ton of money, it is almost guaranteed that you will fall totally and completely in love with your new Seagull Guitar.
Tell us about your favorite Seagull guitar!
Include the model # and explanation of why your guitar is so great!
What Other Visitors Have Said
Click below to see reviews from other visitors to this page...

Return to Best Acoustic Guitars