Reviews of the Best Ovation Acoustic Guitars!
<!*************CJ CODE ********************************>
<!*************CJ CODE ********************************> Ovation Acoustic Guitars are interesting blends of traditional craftsmanship and modern technology. The end results are instruments that combine the best of both worlds.
From Aerospace Designer to Guitar Maker
Charles Kaman never intended to end-up making guitars. He began his career as an aerospace designer and eventually founded Kaman Aircraft where he made any number of advances in the field of aircraft design. But it was his work with acoustics and vibration that Kaman eventually realized could be applied to creating guitars.
<!******** CLICKABLE IMAGE CODE **********>

<!******** CLICKABLE IMAGE CODE **********>
Guitars had always been a hobby of Kaman's, and he was considered by many to be a guitar enthusiast. But after discovering that even the best guitars were made with very little in the way of technological skills, he became determined that he could improve on guitar design.
To further this vision, Kaman founded Ovation Instruments in 1965. Using the knowledge he had of vibration and acoustics from his aerospace career, Kaman designed a guitar with a round back that improved the quality of sound in the guitar. But simply re-designing the guitar was not enough for Kaman. He had to go on to create a whole new material to incorporate into his unusual guitar design.
<!************ Left-Justified, clickable IMAGE ****************>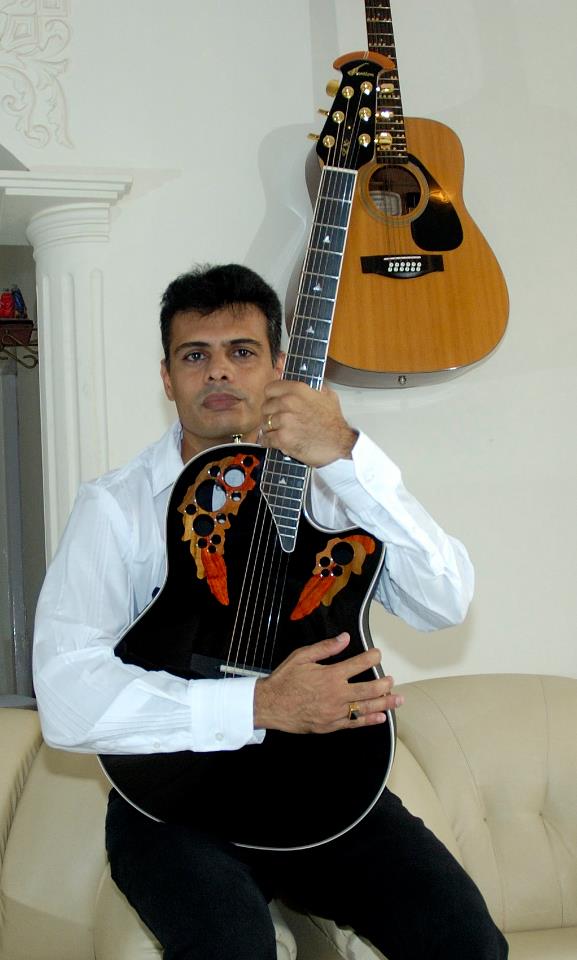 <!************ Left-Justified, clickable IMAGE **************>
By 1966 Kaman had developed a futuristic composite material that could be tuned – musically – on a molecular level. He began using this incredibly durable material to make the backs of his guitars, a move which gave Ovation Acoustic Guitars a unique ability to project their sound. Specifically, the round, synthetic back forces and reflects all of the sound that the guitar creates out the front of the guitar towards the audience. There are no corners for the sound to be trapped, and the guitar player doesn't absorb any of the sound into their chest. Ovation offers several different blow sizes, including super-shallow to deep-bowl.
Eventually Kaman added preamps and pickups as well as equalizers to his guitars in an attempt to counter feedback problems. After all his re-structuring and re-design, today's Ovation guitar lends itself admirably to playing any genre of music - without the need for an amplifier.
Popular Ovation Acoustic Guitar Models
Since the company first geared its guitars for the performing musician, ninety-five percent of Ovations sold around the world are acoustic/electric models. Acoustic-electric guitars have built-in electronics or "pickups" to help project the guitar's sound to a large audience. For those interested in a pure Ovation acoustic guitar (without electronics), check-out the Ovation Applause AA21 – a great guitar for beginners available for less than $150. Over the past 40+ years, Ovation has produced 30+ different "pure acoustic" guitar models that one may find for sale used.
The "Applause" name is Ovation's competitively-priced guitar line. Or, consider choosing a model from Ovation's extensive acoustic-electric guitar line. Ovation's Elite series is a terrific mid-price level line offering solid wood tops, shallow bowls and beautiful wood inlays.
Ovation Acoustic Guitar Artists
Ovation artists who play Ovation acoustic or acoustic-electric guitars include well-known figures such as Glen Campbell, Australian artist Kaki King, Melissa Etheridge and virtuoso guitarist Roman Miroshnichenko. Up and coming artists such as Mike Orlando of Mike Orlando's Sonic Stomp Instrumental Band and Australian born guitarist Nick Maybury, both of whom are making inroads the musical scene, prefer the Ovation brand. Each Ovation artist has nothing but good things to say about the models they play or the experiences they have had with the company.
Why an Ovation Guitar?
While Ovation acoustic-electric guitars may not be pure acoustic instruments, they do represent the best combination of traditional craftsmanship and 21st century technology. This combination bodes well for a future where most musicians will need to be heard through some sort of online media; a task that is made easier by including electronic components in an acoustic guitar.
Ovation Acoustic | Ovation Acoustic Electric