Learn Guitar Online with Next Level Guitar
Are you looking to learn guitar online? Maybe you already play but are looking for a course that can help you improve your skills? Regardless of whether you're a beginner or already have some experience, Next Level Guitar can help you to play as well as you want to. In fact, this course can help you to quickly and easily learn those musical fundamentals that most online courses seem to gloss over.
<!********** LEFT ALIGN IMAGE START ********************>
You know me, I'm always on the lookout for a way to add to my music knowledge base and repertoire, so when it was suggested that I try out Next Level Guitar I didn't hesitate. And let me say that I was very impressed by the attention to basics paid by the Next Level Guitar course. I learned things that I had missed somehow; things that really would have made my guitar playing so much easier!<!******** REFRESH ALIGNMENT **********>
<!********** LEFT ALIGN IMAGE END ********************>
While I was not particularly impressed with their somewhat cluttered website, I was pleasantly surprised how Next Level emphasized the key musical principals. This is a sharp contrast to those programs, e.g. Jamorama, resorting to quick tricks and techniques that bypass basic musical principals in order to get you playing "fast". Next Level pays a good bit of attention to those all-important musical foundation skills that can make all the difference between learning to play acoustic guitar, and learning to play it well.
The program is set up so that you use a number of different materials, e.g. videos available on the website, instructional DVDs, and play along song DVDs, in order to facilitate your learning. While it is comprehensive, it can be a little confusing as to where you need to go or what you need to do next.
For those looking to learn guitar online there are a limited number of choices available, especially when it comes to real techniques and tips for advanced playing skills. Of the available programs offering online lessons, Next Level Guitar ensures that you not only learn the right things, as those basics that can be so important later on, but that you learn them in the right order. It even teaches you how to practice! Learning how to practice is something that is next to impossible to convey to a student when you learn guitar online.
One of the downsides to the program, however, is the fact that it is quite pricey and that you do not just pay a flat price for the complete program. Rather, you must buy your programs (instructional DVD's, Song DVDs and access to an online instructor) separately and choose from different "levels" of access. When you start adding everything up, it comes to quite a bit of money.
<!********** LEFT ALIGN IMAGE START ********************>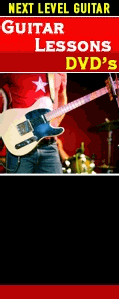 Somehow though, Next Level Guitar manages to convey the importance of proper practice methods and gets you using those all-important foundational skills without coming across as boring or mundane. You'll find that even though you are learning the fundamentals of musical method, you don't feel like you are wasting your time. Instead, you feel like you're really learning something worthwhile; something that will stay with you for a long time to come.
In order to learn guitar online you have to be a little flexible and a little daring too. Some people find learning online to be difficult because of the lack of one-on-one interaction. But Next Level Guitar makes it downright easy, albeit a little expensive. Not only do you get comprehensive videos online that cover all the finer points of learning acoustic guitar, it does so unobtrusively and effectively.<!******** REFRESH ALIGNMENT **********>
<!********** LEFT ALIGN IMAGE END ********************>
Instead of having you practice endless scales and chords that will bore you to tears, they use popular songs in order to capture your interest; songs that build in progressively more difficult skills until, surprisingly, you've mastered techniques that you never imagined you'd be able to.
What's more, Next Level Guitar has a great track record. They've helped hundreds of new musicians learn guitar online successfully and in such a way that they'll keep their skills for life! Even for those who have a little musical experience, chances are that there is something new that you'll be able to learn from Next Level Guitar. And at the very least, you'll have firsthand experience with a program that you can recommend to others who want to learn guitar online.
Here's a sample beginner lesson from Next Level Guitar.
<!**** YOUTUBE *****><!**** YOUTUBE *****>
Other Acoustic Guitar Lessons
Acoustic Guitar Lesson
- Overview
Easy Guitar Lesson - Gibson
Learn Guitar Online - Next Level Guitar
How to Play a Guitar - Beginner Guitar System
Learn Acoustic Guitar - Jamorama
Learn to Play Guitar Online - JamPlay
How to Play Guitar Online - Guitar Tricks

Return from Learn Guitar Online to Best Acoustic Guitars HOME