Acoustic Guitar Ratings
It is important for you to be able to determine acoustic guitar ratings for yourself if you are looking to purchase a new acoustic guitar. True, there are any number of sources for guitar reviews and ratings out there that claim to be able to help you. There are websites and magazines that list customer reviews, opinions and recommendations. But the very best source for rating a guitar is by you doing your own homework and making your selection based on the things you have discovered.
<!********** LORI SPLIT TESTING ADSENSE CODE *****************>
<!********** LORI SPLIT TESTING ADSENSE CODE *****************>
Guidelines for Rating an Acoustic Guitar
Acoustic guitar ratings can be tricky because how you view your instrument is going to change depending on what instrument you're playing, your preferred musical style, and how that particular guitar feels in your hands. There are, however, a few things you should keep in mind as you consider rating an acoustic guitar either for yourself or for a website.
Price
One of the first things that people tend to rate a guitar on is price. However, instead of allowing the price of the guitar to be the determining factor for you, try rating the guitar on just how good of a quality guitar you are getting for the price that you are paying. The difference between price and quality for the price can make a world of difference when you are comparing different kinds of guitars against each other. <!************ Left-Justified, clickable IMAGE ****************>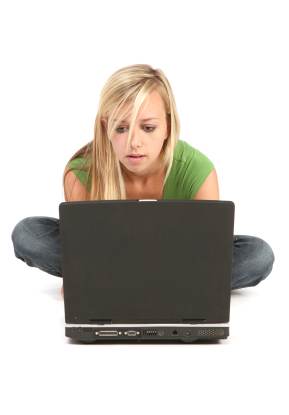 <!************ Left-Justified, clickable IMAGE **************>
Brand
Don't let the brand of a guitar determine the acoustic guitar ratings that you apply. Just because a guitar comes from a high-end manufacturer does not mean that it is a high-quality acoustic guitar. Most guitar manufacturers have multiple 'tiers' of instruments so that they can appeal to as broad of a customer base as possible.
Quality of Construction/Materials
Being able to determine the quality of the construction of your instrument as well as the quality of the materials used to create it can help you in determining the true level of quality that you are dealing with. Look at the edges where the wood comes together and the smoothness of the transition from one part of the guitar to another. Be able to tell the difference between a solid wood top and a laminated top, for even when the difference is not immediately visible to the eye, the difference in the tones of the guitars will be enough to make this worth your while.
Putting it All Together
In order to find the perfect guitar for you while staying within your price range, you can use the steps above to put together a plan for narrowing down your selection. By setting a price limit – a budget for your purchase, and by checking out all brands for quality construction, you can narrow down your choice of guitars. When you have a short list of instruments (say five or six) that meet the criteria for good quality construction, good tone etc., then you should be able to find it easier to make your choice.
---
Guitar Manufacturer Ratings
<!************ Left-Justified, clickable IMAGE ****************>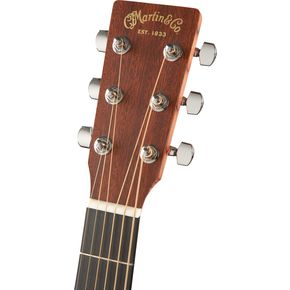 <!************ Left-Justified, clickable IMAGE **************> Which guitar manufacturers have the best acoustic guitar ratings? "Top-tier" acoustic guitar manufacturers include Martin and Taylor. They produce the best sounding guitars of the finest materials and manufactured under the toughest quality control standards. BUT, you are going to pay more money for this level of quality. Close runner-ups in the top-tier include Gibson and Guild. Guitars from these fine manufacturers hold their value more than other brands, an important consideration if planning to resell your guitar at a later date. "Mid-tier" acoustic manufacturers include Takamine, Epiphone, Ibanez, Seagull, Fender, Yamaha and Washburn. If searching for a cheap beginner guitar, you'll find that most manufacturer's make their "value line guitars" in China. Don't be turned-off, rather focus on the product reviews and attributes of the particular model.
<!********** LEFT ALIGN IMAGE START ********************> <!**** ADSENSE *****>
<!**** ADSENSE *****> The most important attribute when selecting the best acoustic guitars for beginners is a solid wood top (e.g. spruce, mahogany, cedar). Compared to laminate tops, solid wood tops produce a much richer, resonating sound. Beginner acoustic guitars with solid wood tops are now available in the $199 price range, thanks to competitive overseas manufacturing. I strongly encourage beginners to bypass those $99 laminate top guitars, and spend that extra $100 to get a solid wood top guitar. <!******** REFRESH ALIGNMENT **********>
<!********** LEFT ALIGN IMAGE END ********************>
Epiphone Acoustic Guitar
Epiphone Acoustic Guitars
|
Epiphone Acoustic-Electric
Epiphone's history began in Greece in 1873 as a maker of lute, violin and traditional Greek instruments. Gibson purchased Epiphone, its then biggest competitor of guitars, in 1957.
Today Gibson increasingly uses the Epiphone name to sell their less expensive guitars that are manufactured in a dedicated factory in China. Several Epiphone guitars are lower-priced versions of flagship Gibson models, such as the Hummingbird and EJ-200. Check-out the acoustic guitar ratings of the Epiphone versus Gibson models.

Fender Acoustic Guitar
Fender Acoustic Guitars
|
Fender Acoustic-Electric
Known for remaining privately held and holding to craftsmanship, Fender is an American guitar maker based in Arizona. They do have a factory in Japan that makes their Squier line of instruments.
Best known for their electric guitars such as the Stratocaster and Telecaster, Fender also has an extensive acoustic guitar line-up. Examples of their entry-level acoustic guitars include the DG60 Dreadnought and the CD60 Dreadnought, which both do well in the acoustic guitar ratings.

Ibanez Acoustic Guitar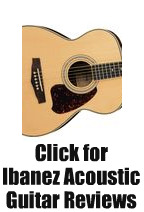 Ibanez Acoustic Guitar | Ibanez Acoustic-Electric
Ibanez Acoustic Guitars is privately owned and operated in Japan. They were the first company to produce seven string models on a large scale. Ibanez prides itself on creating guitars that anybody can afford. That results in a diverse selection ranging in price from $199 to $499. Ibanez is the guitar of choice for players like Jennifer Batten, Buckethead and Wes Borland.
Buy an Ibanez if you're looking for a quality beginner guitar with decent acoustic guitar ratings. Ibanez has a wonderful selection of acoustic guitars mostly in the $199-$499 price range. Look for great Ibanez quality with their solid top guitars and you can't go wrong!

Martin Acoustic Guitar
Martin Acoustic Guitars
|
Martin Acoustic-Electric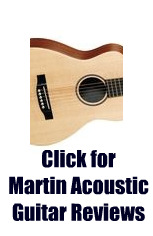 The Martin name is synonymous with quality acoustic guitars, making instruments with the best acoustic guitar ratings overall. Martin is best known for the dreadnought "D-Series" style featuring a large-body, full-sounding guitar. The Martin D-28 model has been copied more than any other acoustic guitar but never equalled.
Martin players include Johnny Cash, Eric Clapton, Norman Blake and Sting. C.F. Martin IV (the founder's great-great-great grandson) still runs the company that was established in 1833. Martin continues to produce high quality, beautiful, durable guitars.

Takamine Acoustic Guitar
Takamine Guitars
|
Takamine Acoustic-Electric
Takamine Guitars, nestled at the base of Takamine Mountain in Sakashita, Japan began as a small family business in 1959. Takamine provides good quality "value guitars". You can buy a Takamine guitar with a laminate spruce top for about $99 - what a bargain! But, spend the extra money on a $199+ Takamine SOLID spruce top guitar and quickly appreciate great sound.
Takamine Guitar's lower-priced line manufactured in Asia, is called "Jasmine". The Jasmine products are shipped to Takamine for a quality-control review, so you will certainly get a quality product - just at a discount price.

Taylor Acoustic Guitar
Taylor Acoustic Guitars
|
Taylor Acoustic-Electric
Taylor Guitars, established in 1974, is based in El Cajon California. Founder Bob Taylor designed the grand auditorium style from scratch to be an excellent fingerpicking guitar. It is Taylor's most popular guitar and highly rated in guitar reviews.
The company is known for making guitars from the finest types of wood, including Sitka spruce, Western red cedar, Hawaiian koa wood, and rare Brazilian rosewood. Taylor guitars are some of the most expensive, yet they do provide an exceptional sound quality. As one of the "top tier" manufacturers, they produce some of the best acoustic guitars available.

Seagull Acoustic Guitar
Seagull Acoustic
|
Seagull Acoustic-Electric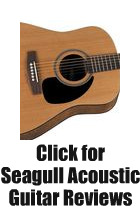 Canadian made and globally played, Seagull guitars feature solid tops and beautiful finishes. They have excellent quality-to-value relative to their hand-crafted guitar counterparts. A commitment to affordability means that Seagull guitars do not usually have a great deal of aesthetic extras (such as engraving or inlays). The focus is, instead, on purity of line and the tone of the guitar itself as the true work of art.
A Seagull may not have the reputation (or price) of a Martin or Gibson, but for the working musician it has the advantage of providing a beautifully constructed instrument with an excellent quality sound at an affordable price. You will be amazed at their outstanding, customer acoustic guitar ratings.

Yamaha Acoustic Guitar
Yamaha Acoustic Guitars
|
Yamaha Acoustic-Electric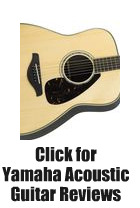 The world's largest manufacturer of musical instruments began in Japan, with a businessman by the name of Torakusu Yamaha selling reed organs to Japanese consumers. Torakusu's business acumen became an integral part of the Yamaha Company; as the business grew, the company began to set its sights even higher, adding string and wind instruments to its reed organs.
The Yamaha acoustic guitar line-up is expansive, offering both inexpensive beginner guitar models plus solid top advanced player models with decent acoustic guitar ratings.

More Buying Tips